This is the software counterpart to my previous article in which I looked at my workstation's hardware setup. Some of these are unique or best-of-breed, others may have been sherlocked but I stick with them anyway :)
Since writing the draft of this post a month ago I had to put my laptop in for repair, and in getting the loaner machine set up how I wanted it I realised that some of the tools that I originally listed below I could do without. So I've split the list into essential and nice-to-have.
"Nice to have" Mac tools 🔗
These are ones I've used for ages, but didn't find myself rushing to install when I got a new laptop.
After a while your menu bar starts to look like this:

Bartender is a nice little tool for rearranging the order of the icons, or even hiding them entirely! Particularly handy when you're presenting from your screen or recording a screencast. Plus you can customise its icon which is cool:

CPU, memory, network, etc usage displayed on your menu bar, with hover-over drill-down visualisations. Neat!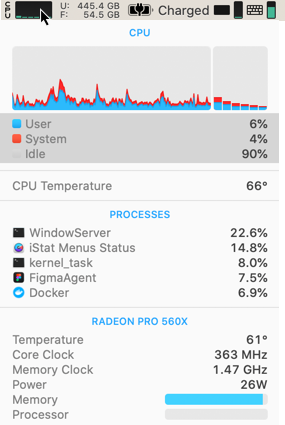 Very powerful way to monitor, and optionally block, specific network traffic for each process on your machine.