Wireless Headset for VOIP With No 30-Minute Dalek Timebomb
A lot of my work is done remotely, with colleagues and customers. Five years ago I bought a Microsoft LifeChat LX-3000 which plugged into the USB port on my Mac. It did the job kinda fine, with two gripes:
it wasn't wireless. I like to wander whilst I chat, and I didn't like being tethered. But this in itself wasn't a reason to ditch it
After c.30 minutes on a call, my voice would turn into a dalek. or rather, my voice wouldn't but the audio that others heard was. This happened regardless of platform (Hangouts / Zoom / Skype / etc). I figured it must be a software or network issue. Never got to the bottom of it, until I switched to using a Snowball microphone for some proper voice recording - and any calls I happened to also make on it no longer had the Dalek problem.
So I switched, on a colleague's recommendation, to the Logitech H600. I love it. The wireless works flawlessly, and no dalek effect. Gripes? Well there's no pleasing some people. The audio quality is great for calls, but for music I switch back to my wireless Avantree Auditions. The Logitech headset also feels a bit plastic, which I don't care about unless I'm back here in six months complaining that it's broken….
Apple Watch 2 plus Bluetooth Headphones
Eighteen months ago I took up running, since for the past 37 years I'd done all I could to avoid exercise, and with my fondness for beer and fryups, it was time to do something to try and influence the statistics of health problems back in my favour…
Being a geek, I obviously had to track my runs, which I did at first with MapMyRun on my iPhone, eventually investing in a Polar M400. It's a great phone for tracking running, and synced nicely with Strava - but it didn't do anything else as a 'smart watch'. It mirrored notifications from my iPhone but in a fairly lame way. Then along came Apple Watch 2, which unlike the original Apple Watch has in-built GPS meaning that you can track your runs without needing to have a phone - and being an Apple Watch does lots of very cool 'smart watch' stuff.
On my runs I listen to podcasts, and previously had done this using an old Nexus 4 that I had, with a pair of MPow Swift Bluetooth Headphones. This worked great. Then I realised that the Apple Watch 2 can pair directly with headphones! At first it refused to pair with the MPow Swift, but after a bit of Googling I found that by first deleting the pairing from my Nexus 4 to the headphones, I could then pair them fine to the Apple Watch 2. Following this convoluted method I can get podcasts on my Apple Watch 2 …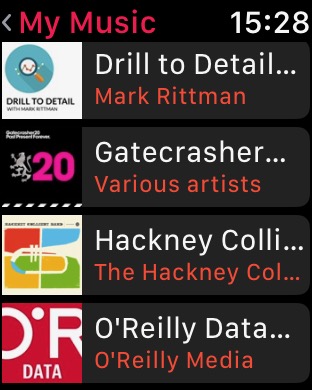 So my little tech win is being able to go for a run with just my Apple Watch 2 and MPow Swift headphones, track my run with GPS (using Strava's new support for Watch-only tracking), and listen to podcasts!
Little technology fail : I've actually reverted to going running with my Nexus 4, because I got fed up manually trying to sync podcasts to my watch. For the benefit of not carrying a phone, it just wasn't worth it. The Podcast Addict app on the Nexus does a great job of automatically downloading new episodes so that they're just there and ready for me to listen to when I go out.
---
(Photo credit: https://unsplash.com/@dsoodmand)